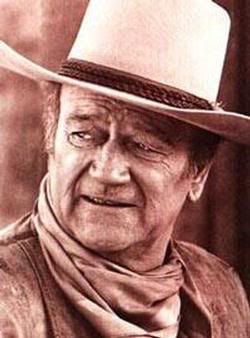 This lady goes into a store needing toilet paper. Unfortunately she doesn't have a lot of money so she buys the cheapest toilet paper she can find. When she takes it off the shelf she's surprised that it doesn't have a name. When she brings this up with the store manager he informs her that there is no name for it yet and if she could think of a good name for it she's welcome to volunteer one.
The next day she returns to the store and tells the manager she thinks a good name for it is none other than John Wayne.
Puzzled by her answer the manager asks her "Why John Wayne?"
She then says "Because it's rough, it's tough and it doesn't take crap from anybody!"
I just thought I'd let everyone know that I'm still jobless and trying to find something. No Dad I haven't given anymore thought to finding something in the thriving film industry that is becoming much more prevalent in Virginia. j/k Thanks for all the interest in seeing how things are going out here.
Take it easy,
Matt