Grace was baptized this last weekend. It was a fabulous day. Grace was so excited and we are so proud of her for making this decision. Grace has such a sweet, pure spirit and she is such a good example to her brother and sisters. Lots of friends and family were able to attend the baptism and Grace felt very special. Grandma and Grandpa came, so did Aunt Dana and Uncle Jason and the COUSINS!! The kids had such a great time together, they played hard all weekend and were so sad when the Delgadillos had to go home. We are so grateful to everyone who made the long trip up to be here for Grace and everyone who participated in the baptism. It was a perfect weekend, we are very blessed. It was a perfect Mother's Day present, that and getting to be with my mom on Mother's Day, which hasn't happened in a long time. Elliot decided to write about the baptism for his small moment homework this week. I think he summed it up fairly well.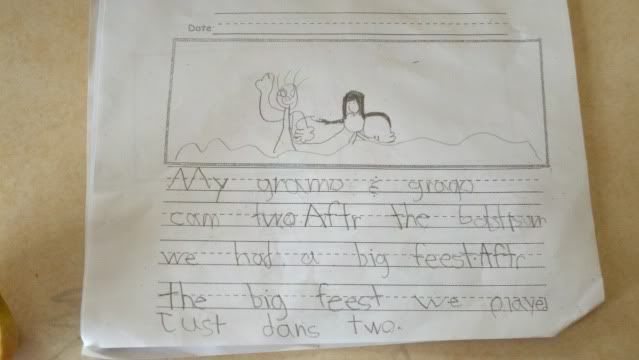 Such a sweet boy :)
Happy girl :)
(grandma Croshaw made her beautiful dress)
For a recap of the rest of the weekend you can see my sister's post
here
.